Teacher Education Case Study Examples
| | |
| --- | --- |
| | Case Studies Focus on Teachers' Everyday Problems |
Is "I'm bored!" one of your students' favorite expressions? Are name-calling and play-fighting problems that you face every day in your classroom? Follow six classroom teachers as they struggle to understand and find workable solutions to these and other everyday problems in a new book from author Ruth Charney.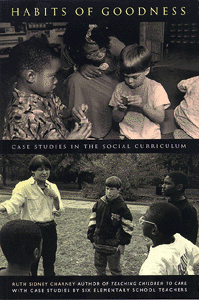 "Sometimes I fear that we will lose faith, faith in ourselves and our children. Many teachers find their classes harder, their children demonstrating fewer academic and social skills. In my school, too, the challenges can be daunting. More than ever we need to feel the courage and hope of our professions. We need the time and stamina to problem-solve, to search in our own midst for effective strategies and to collaborate"
And that's the thrust behind a new book---Habits of Goodness: Case Studies in the Social Curriculum---from Ruth Charney, author of Teaching Children to Care. Charney has invited six educators to each share a problem experienced in the classroom and to focus on that problem, "to search in their own midst for effective strategies and to collaborate"
The six case studies in this volume focus on "big" problems, problems that have no easy solutions. They're problems that every teacher faces on a daily basis. To give you an idea of the kinds of problems the six teachers addressed, following are excerpts from four of the Habits of Goodness case studies:
Teacher Eileen Marinari focuses on getting her kindergartners to talk "real talk":
"It seems that over the years my students have become increasingly non-verbal and passiveThey need to be prodded to express themselves in a class discussion or to share something about themselves. When they do speak, they offer only the required amount of information"
Teacher Linda Matthews chose to focus on conflict resolution with her first graders:
"Early in September I introduce them to a conflict resolution process called SETS, an acronym for

Stop and get cool.
Explain what you are unhappy about.
Talk at the table.
Shake hands.

Together we practice those techniques so the children can learn to use them on their ownSo I puzzled why, in spite of all these arrangements, some children still persisted in their need to check in with me before trying to resolve their problems"
Teacher Cathy Jaques' case study focuses on her desire to teach respect to the fourth graders in her class, to put an end to the play-fighting and the name-calling she regularly observes:
"Classes had been dismissed for lunch and the hallway was alive with kids going into lockers, heading for rest rooms, and meeting friendsI saw Patricia and James playfully arguing. Suddenly, with the grace of a dancer, Patricia's leg shot out and kicked a laughing James with a sideswipe worthy of Jean-Claude Van Damme"
Teacher Colette Kaplan searched for ways to get her fifth-grade students (whose favorite line seemed to be "I'm bored!") to take some responsibility for "unboring" themselves. Her problem came to light one October day:
"I was particularly looking forward to our social studies period, eager to watch my fifth graders dig into their projects on Native Americans. Anna and Claudia had chosen to work together studying Native American dwellings. This morning found them sitting at a cluster of desks chatting quietly. Their desktops were empty.
Their talk had nothing to do with longhouses or teepees[Ms. Kaplan intervenes] 'Are you girls having difficulty getting started today?' They exchanged nervous glances; they had been 'caught!''We're bored,' Claudia announced."
Getting kids to open up; developing the skills needed to create independent problem-solvers; developing respect among students; and getting kids to take responsibility for their own learning. Those are the sorts of problems teachers face every day. Big problems. Problems without simple answers.
In Habits of Goodness, each of the six teachers works to solve a problem that has been bothering her. Each comes up with solutions that work for her. But the best part of Habits of Goodness is that the teachers model an approach that can be applied by any educator to any problem. We follow along over the course of a school year as each teacher takes time to reflect on the problem, observe her students' actions, question her solutions personally and with a selected peer, and determine a course of action. The solutions are thoughtful and creative (as with Cathy Jacques, who gets her students to follow the case-study approach as they write essays about name-calling, essays that result in heart-rending classroom discussions).
We, the readers, follow as each teacher focuses on a problem and seeks solutions that will work---for her, for now. The teachers vow to continue to reflect on those problems, because the problems aren't simple ones. But, in the end, the teachers have grown. Each looks forward to the next school year, a year when she can begin in September to apply all she has learned from the efforts of the past year.
Habits of Goodness: Case Studies in the Social Curriculum by Ruth Sidney Charney is published by the Northeast Foundation for Children. The book is available from NEFC by calling the Foundation at 1-800-360-6332. (Single copy price: $18.50.) The Northeast Foundation for Children is a private, non-profit educational foundation that works to improve the quality of classroom teaching through its professional development programs, summer workshops, long-term collaborations, and teacher resources. NEFC publishes The Responsive Classroom, a newsletter for teachers, three times a year (January, April, and August). Subscriptions are free to educators. To initiate a subscription, mail (to ensure that they have accurate mailing information) your name; your address; your city, state, and ZIP; your title or grade level taught; and your school name to: Northeast Foundation for Children, 71 Montague City Rd., Greenfield, MA 01301.

You can read a reprint of a Responsive Classroom article which appeared several weeks ago on Education World at /a_lesson/lesson/lesson009.shtml. "Pretzels" describes a weekly activity that allows the exchange of compliments and criticism among the students in your class; the Pretzels exercise can help to resolve conflicts and teach children how to properly handle conflict.
Article by Gary Hopkins
Education World® Editor-in-Chief
Copyright © 1997 Education World
07/25/1997
Case Studies
Case studies are stories that are used as a teaching tool to show the application of a theory or concept to real situations. Dependent on the goal they are meant to fulfill, cases can be fact-driven and deductive where there is a correct answer, or they can be context driven where multiple solutions are possible. Various disciplines have employed case studies, including humanities, social sciences, sciences, engineering, law, business, and medicine. Good cases generally have the following features: they tell a good story, are recent, include dialogue, create empathy with the main characters, are relevant to the reader, serve a teaching function, require a dilemma to be solved, and have generality.
Instructors can create their own cases or can find cases that already exist. The following are some things to keep in mind when creating a case:
What do you want students to learn from the discussion of the case?
What do they already know that applies to the case?
What are the issues that may be raised in discussion?
How will the case and discussion be introduced?
What preparation is expected of students? (Do they need to read the case ahead of time? Do research? Write anything?)
What directions do you need to provide students regarding what they are supposed to do and accomplish?
Do you need to divide students into groups or will they discuss as the whole class?
Are you going to use role-playing or facilitators or record keepers? If so, how?
What are the opening questions?
How much time is needed for students to discuss the case?
What concepts are to be applied/extracted during the discussion?
How will you evaluate students?
POD Cases: A POD workshop session in Fall 2002 provides one example of the use of case studies, together with three case studies developed especially for that workshop.
To find other cases that already exist, try the following websites:
For more information:
Book Review: Teaching and the Case Method, 3rd ed., vols. 1 and 2, by Louis Barnes, C. Roland (Chris) Christensen, and Abby Hansen. Harvard Business School Press, 1994; 333 pp. (vol 1), 412 pp. (vol 2).